Help with Hashtags
Hashtags are worth their weight in gold when it comes to getting you more followers, more engagement, and noticed by travel brands.
You've only got 30 hashtags you can use for each Instagram photo, though, so you have to make them count.
In my early days of Instagram, I wouldn't use any hashtags. Or maybe just two or three sometimes if I was feeling crazy. No wonder I was struggling to get just 3 or 4 likes per photo. No one could find me - and those were the beautiful days of when you got to see all photos in your Instagram feed in the order in which they were posted, not just what Instagram decided to show you.
In the year that I started focusing on hashtags - targeted hashtags - my Likes increased by 1,000% Yes, you saw that right. 1,000%
Of course, my following count increased during that time, but that could also be because of my use of hashtags. They really are that important. So it's time to start using them correctly.
Niche Hashtags

It can be a tricky thing trying to choose hashtags. You want hashtags that are popular enough to get you noticed, yet not so large that you got lost in the amount of people using the hashtag.
For example, tagging your family photo on Instagram with the hashtag #travel is likely not going to get you noticed or make any brands take notice.
However, the same photo could go viral or get you noticed by family travel destinations if you use the hashtags #travelwithtoddlers, #travelwithkids or #travelwithababy.
Those hashtags are more narrow, are associated with a specific niche, and will have less people using them, therefore giving you more of an opportunity to shine.
As part of your bonus materials, I've included an extensive list of hashtags to consider using for your Instagram photos. The printable sheet is found at the end of this course, but feel free to skip ahead and print it out now!
Start using it today!
Doing Research

Hashtags are something that you always want to be researching. Look at photos of other people in your field. See what hashtags they use. Pay attention when one of their photos has way more likes than normal. Did they use a different hashtag that is bringing them in more traffic? Can you look through their caption or comments (usually hashtags are put in the very first comment of a person's photo, if not included in the caption itself) and see one that stands apart and is unusual?
Play around with hashtags. This is going to take trial and error. When you have a photo that gains more likes than normal, see what hashtags you used and note them down to focus on in future photos.
You can also research which hashtags are trending and popular by typing in any hashtag name in the search function on Instagram (the magnifying glass). So during a recent search of the #travel hashtag (be sure to click the tab that says Tags, not the People or Places tabs), I got a list of other similar hashtags that were trending.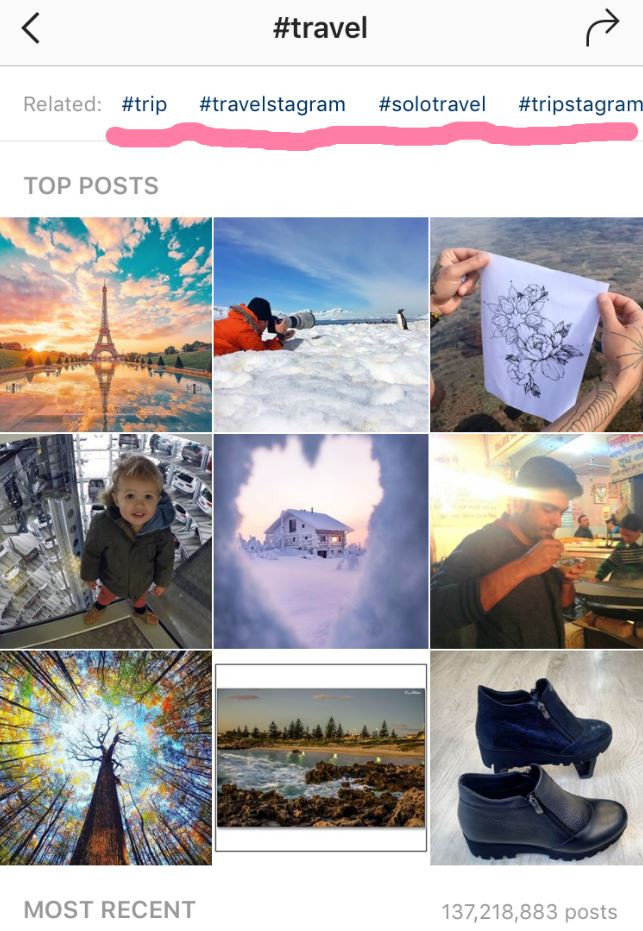 If I was to post a picture of my European vacation, I wouldn't want to use the hashtag #travel (which at this time has 137, 218, 883 users). There is no way you are going to get found in that crowd.
Instagram is suggesting though, the hashtags #trip, #travelstagram, #solotravel, #tripstagram, #traveltheworld, #travelingram, #traveldiary, #travelers, #travelbuddy and #travelholic which have far fewer users (sometime just 250,000 uses) but are still just as popular and trending.
Hashtags Hack

Speaking of using a variety of hashtags, it is really annoying to have to type them in individually on Instagram. Use the Notes function on your phone to create a series of notes with groups of hashtags for certain topics that you post about.
Because every photo is not always going to use the same set of hashtags.
I have Notes with 30 hashtags each based on the places and events that I visit the most. An attraction is going to have a different set of hashtags than a beach or a restaurant. You will need to format your notes just like you were typing in Instagram, with the # symbol followed by the word. Do not put commas in-between each hashtag in your Notes. Just use a space.
---
Your Steps to Success:
Choose 30 hashtags to use on your photos for the next week. Make a text copy, either via Notes or email yourself a text link to copy and paste, and use these hashtags in the first comment of each of your new Instagram photos.